The Sound of Music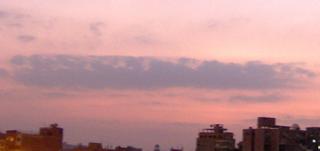 Dear ...
It was Friday, six something PM, I was sitting in the balcony watching the sun set, the weather was so beautiful ...it was quieter than everyday.
I stayed for more than thirty minutes staring at the sky I couldn't help noticing that the colors of the clouds are also changing while the sun is sinking behind the buildings ... yes "buildings" I wished it was a sea or trees but still it was a nice view.
the closer clouds to the sun were almost transparent and the far ones were blue going into darker blue.
the sun then began t disappear leaving red shades in the sky... red traces and tones till it has totally gone.
I found myself humming one slow song and one idea just jumped into my mind... where does the sound of music come from, I thought I heard something it's like an inspiration and the last thing you know you are humming this particular piece.
They do this in the movies and we say oh... movies they are not real.
Still want to know... so what about this, how do we feel when we first listen to a beautiful piece of music, especially when we listen to someone playing Piano (it's my favorite) it just touches the heart may be it remains there may be it enters the heart and wait till we need it and then it comes , overwhelms us and then we found ourselves humming, It's not very scientific but it's how I think.
The sky then turned into blue, the red shades have gone so are the clouds they blended in the sky, the music faded till it has also gone.
Yours,